And that's it, it's finished, the end has come, after some thirteen thousand votes the Birmingham: It's Not Shit 2006 Brummie of the Year can be announced. Let's do it in reverse order, like Miss World:
Clare Short [link] 39 votes, Laurence Inman [link] 46, Linda Miller [link] 61, Adrian Goldberg [link] 79, Charlie Mitton [link] 105, Toilet cleaners at Hopwood Services [link] 1260, Adrian Chiles[link] 1740 votes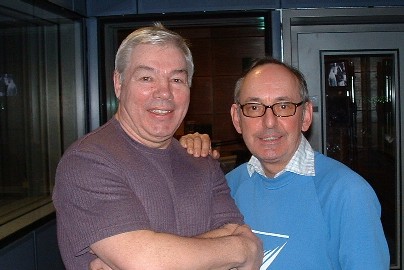 So runner up is , long time favourite, Danny Reddington (left with the wonderful Les Ross) – for years of sterling record-shop owning and the brilliant gesture of leaving loads of his stock outside for anyone to have when closing up to go online [link].
Danny is a much loved Brum celeb and we're sure he'll be pleased with his 4584 votes.

Jason Furnell (library photograph)

Jason follows Charlie Mitton, Babu and others into the Brummie of the Year cannon – which may or may not do him any good. Babu became a national celebrity, Bad Boy Mitton, not so much.

Jason is no doubt a popular figure in the Brummie Cricket scene – and it seems our very own Sports Personality of The Year. We'll be visiting Aston Manor nearer to Christmas to present Jason with his trophy – when we've got it off of Babu.

Watch this space for a full report on the prize giving and an exclusive interview with the man himself.